I take my obsessions seriously. When I love something, I really LOVE it. Like, the way that big monster from Looney Tunes loved Bugs Bunny ("I'm going to hug him and squeeze him and name him George!") 'Cause really, there's no sense in half-assing it. If you're crazy about something, than own it. #lifelessonnumber465 #yourewelcome
That said, let me tell you about a little thing I'm currently OBSESSED with called UNICORN HAIR! or ombre hair or dip-dye hair and chalking, whatever means you need to get the lovely pastel magic seen below. The trend has been around for awhile and shows no signs of calling it quits. Which means YAY FOR ME and anyone else in love with this look!
All this talk of magical hair power has me considering dying mine multiple colors again like I had it last summer and the summer before that and than all the way back to junior high when I used Kool-Aid to dye it. Which, by the way, has more permanent results than you'd think…#oops.
Gaze to your heart's content: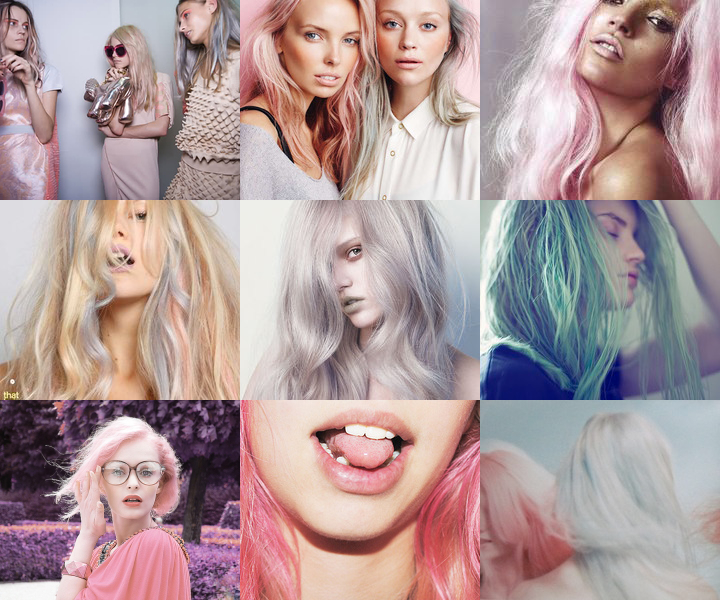 K, going to bed now. I had plans of catching up on Gossip Girl and doing zero amounts of homework 'cuz it's my "SPRING BREAK, WHOOOO!" but I actually want to sleep more than I want to catch up on the over-the-top but oh-so-glamourous-n-fabulous fictional lives of Upper Eastsiders.
x+o,
M
P.S. All images via Pinterest.